We may receive compensation when you click on links to products from our partners.
Stay Motivated
Staying motivated when you have a goal can be tough, especially if that goal seems far away. If your goal is to land the job of your dreams, you'll often have to spend months, or even years attempting to get to where you want to be. However, that doesn't mean you shouldn't do it! If it was easy, wouldn't everybody be going out there and picking and choosing what they wanted? Where would the fun in that be? Enjoying your journey, the contrast in it, and learning from it is one of the best ways to improve your life!
You can't tell yourself 'I'll be happy when…' because you're missing out on the power of now (great book, by the way). Anyway, we digress. Here's how you can stay motivated on the course to your dream job.
Come Up With Your 'Why' And Don't Forget It
Knowing your 'why' for anything in life will help you to get where you want to be. If you're feeling lost or unsure, it's often because you've lost sight of your why. You need a powerful "why" to help you continue to move forward, even when things get really tough.
Your why could be one of the following:
Live a comfortable lifestyle

Pay for your children's education

Enjoy work

Using your passions and skills every day
It can be anything that means the most to you. Think about it, write it down, and keep it somewhere you can look at it when things get a little bit tough.
Know Your Drives And What Motivates You
Knowing yourself is another important factor for achieving just about anything you want in life. If you know yourself, you can avoid the things that set you back, like old thinking patterns. What are your drives? What motivates you? What is your working style and learning style? Figure out these things and you can make better decisions when it comes to achieving what you want.
Figure Out A Route That Works For You
There are usually multiple routes to a dream job that can suit a variety of people. It's rare that two people will take the same route to a role. If you want to be an accountant, making sure you look into CPA exam preparation will be unavoidable. But there will often be other things you can do that will suit you more than others. Do plenty of research and map out a rough route.
Staying motivated when you have a goal can be tough, especially if that goal seems far away. If your goal is to land the job of your dreams, you'll often have to spend months, or even years attempting to get to where you want to be.
Click To Tweet
Figure Out Ways You Can Reward Yourself For Milestones
Something that can help you to stay motivated and keep you from giving up is rewarding yourself when you reach certain milestones. Reward yourself in a sensible way that makes sense to you. You may not want to splash your cash on a holiday to Jamaica. Perhaps you could buy an accessory or item of clothing you've wanted for a while or even a book. Maybe you could go somewhere you've always wanted to go. Having these rewards laid out in front of you so you can work towards them will help you to stay on track.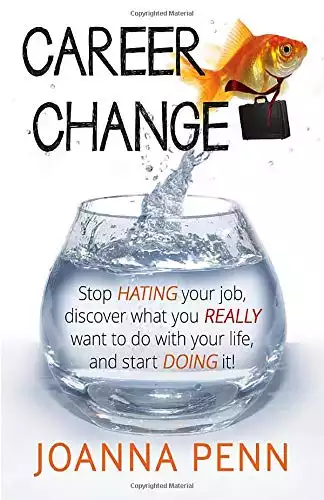 Career Change: Stop hating your job
This book will take you through understanding the way you feel now as well as how to improve your current situation immediately so you can create enough space to work on breaking out and doing what you truly love.
Buy on Amazon
We earn a commission if you click this link and make a purchase at no additional cost to you.
06/02/2023 03:44 am GMT

Get Out Of Your Comfort Zone
You must be prepared to get out of your comfort zone if you're going to do great things. Hardly anything good happens in your comfort zone! Be prepared to get uncomfortable. Get comfortable with being uncomfortable. Do what most don't and you'll get what most won't. It's that simple!
Don't Allow Yourself To Procrastinate
Procrastination may feel good at the time if the task at hand is tough, but it really doesn't help you in the long run. You can get into bad habits too. The more you procrastinate, the harder it tends to be to get started. Be more mindful of when you're not focused on what you should be focused on and get back to work. Remember that procrastinating only harms you. Also, pay attention to how much better it feels when you're actually getting stuff done and not putting it off.
Practice Keeping A Positive Mindset
A positive mindset can help you to change your perspective and outlook on life. Some think that this is pointless, but when you start noticing the good stuff more than the bad stuff, you'll also notice great opportunities that you may not have noticed in the past. Changing your outlook can literally change your life.
Staying motivated to reach a goal like this for a long time can be tricky, but it isn't impossible. Use this advice and you'll get there!
Our Pick