We may receive compensation when you click on links to products from our partners.
It wasn't too long ago that workers would find themselves entering 'the family business'. No matter whether that business was owned by their forefathers or just the career that everyone went into, it was natural that your skill set would be influenced by your parents. And they had the contacts to get you a job. Once in the family business, people tended to stay until retirement.
Now, of course, everything has changed. You might go to university to do a degree in literature, convert to law, spend a couple of years helping couples divorce, and then pivot into flower arranging. From there you might discover a talent for blogging, set up a social media consultancy and then decide to cut loose and travel the world as a digital nomad. Honestly – this could be the first 10 years of your career.
There are no boundaries for what you could do. So how do you figure out your next move?
Learning and Building Soft Skills
When you aren't sure what to do with your career, it can feel quite paralyzing. You aren't sure whether you will be good at something, don't know whether you would enjoy it, or even if the experience will be worthwhile.
What you haven't realized is that you are in a brilliant position. Try everything that will help you build up your skills and treat every experience as a learning opportunity. Your career always comes down to the education you have and the education you want. And, when you are more open-minded, even the worst experiences are opportunities to grow and change.
Of course, some skills are more highly valued than others. For example, you might consider PMP Certification Course which can be applied to a wide variety of different industries. Similarly, you might consider working on your digital skills from SEO and social media to basic blogging. The more transferable skills you build, the more likely it is that you will be able to move on to a different job or industry when you are ready to move on.
Every job you do and every place you work should offer you some opportunity to learn. indeed, some of the most high value skills can be learned anywhere including management skills, interpersonal skills and language skills. As you develop and grow in the workplace, your ability to get along with others and work as a team will significantly improve and this is invaluable when you are just starting out.
Don't settle for the status quo in your career! Embrace change and growth as the new norm. Learn how to navigate career transitions and pursue your passions with confidence in our latest blog post. #careerchange #careeradvice #growthmindset
Click To Tweet
Follow Your Passions and Interests
You will spend a significant portion of your life at work. Working 9-5 5 days a week for around 48 weeks a year is a lot of time – especially when you factor in the amount of time you sleep! In fact, around 20% of US workers work a 60 hour week.
Given that you spend so much time at work, you really should find a job that you enjoy doing and feel is worthwhile. Following your passions is a good idea but don't just think about the hobbies you enjoy. Consider which activities make you feel good and what could be transferable. For example, you might find settling family arguments quite satisfying which could translate into working as a lawyer, a mediator or a psychologist. Open your mind to what you enjoy and then try matching yourself to a career.
But that doesn't mean that you have to spend all your time in one job. Freelancing is a good opportunity you can make for yourself and a chance to play about with your career. You can spend a couple of days at one job and a few days at another; you could build your own business while working occasional shifts; or you could do project work and bounce from job to job.

Freelancing is now much more popular and is a good way to build experience while you are young and just starting out. But freelancing is also a good way to figure out what you really want to do and find a balance. Lots of freelancers do a range of things to earn money over the weeks, months, and years and there is a lot of seasonal work out there if you fancy it.
Don't Close Any Doors – Work Your Network
Your network is one of the most important resources available when you are trying to find a job or work out what could be good for you. In years gone by, you would have relied upon your family connections to get a job but in the digital age, you can connect with people online all the time.
Navigating your first networking event might sound scary but really, it is just a chance to talk to people in a particular industry and see what their business is about. If you are just starting out, going to a networking event is a good way to build up some contacts and, hopefully, get a bit of work experience to see whether the job could be for you. Similarly, the more people you know, the more likely you are to find out when companies are hiring. Knowing when a company is hiring is half the battle when you are job hunting.
Building your network is all about making and keeping work friends. This doesn't mean you have to have a cozy chat every week, it just means that you keep up on sites like LinkedIn and know that you can get in touch again any time. As you go from job to job, be careful not to burn any bridges.
Careers are gradually changing and the rules are relaxing too. You don't need to show that you can work in one place for a year – if you are unhappy you should move on! You don't need to enter 'the family business' or stick with the same industry for your entire career. The reality is that the more you move, the more experience you get. And the more experience you have, the better choices you will make.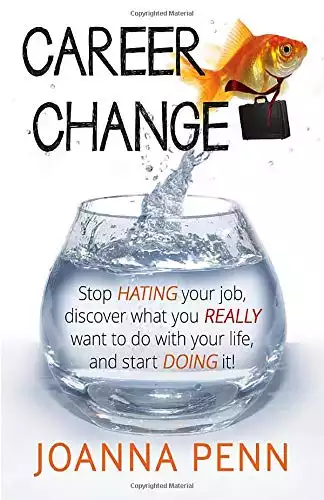 Career Change: Stop hating your job
This book will take you through understanding the way you feel now as well as how to improve your current situation immediately so you can create enough space to work on breaking out and doing what you truly love.
Buy on Amazon
We earn a commission if you click this link and make a purchase at no additional cost to you.
12/03/2023 07:56 am GMT