We may receive compensation when you click on links to products from our partners.
If you have a talent for art, design, or anything creative, there's a good chance you might want to make a career out of it. But what do you do about doing this? It's not like there is a specific path to follow like in other careers.
Here are a few things to consider to turn your creativity into a career.
Teach Others
Teaching is one of the best options for making a career out of your creative skills. There will always be other people who want to learn how to do what you do, and if you have the skills, you can teach them.
You may be able to get a job in a school or university giving lessons to art students, but that's not the only option for teaching. You could also set up your own business, provide private tuition, give private lessons online, and more. There are many options.
Teaching can be very fulfilling, and it is a great way to share your skills. It can also be incredibly satisfying to watch your students improve their skills and get enjoyment of learning.
Sell Your Work
Another option is to sell your work directly, and there are many ways that you could do this. You could start by selling to family and friends, and see how it goes. But perhaps the best way to make a career out of selling your artwork is to sell it online.
If you have a talent for art, design, or anything creative, there's a good chance you might want to make a career out of it. But how do you do about doing this? Here are a few things to consider to turn your creativity into a career.
Click To Tweet
Set up your own website, create a portfolio, then look into sites where you can sell directly. Amazon and eBay are good places to start because they are so big. Etsy is another great option because it specializes in handmade goods and art, and a similar marketplace is Artfire.
Just make sure you always use high-quality materials when you print your artwork. Using the right fine art paper can make a big difference to the overall quality, and it will help to encourage customers to buy more of your work.
You could also sell your art under a print-on-demand license. This gives other people the right to reproduce your art, and you keep the rights to the original. You could do this through websites like Zazzle.
Launch a Blog
This is another option, though it's by no means straightforward. You may want to launch a blog as a hobby first and see where it goes. However, if you are passionate about what you do, and you have skills and knowledge to offer others, you might be able to make a success of your blog.
Think of everything you know about your skill. What might other people want to know? You could provide basic tutorials for beginners or share advanced tips for other artists.
Choose a target audience and find out what you like creating content about. If the blog starts to grow, you could create other products to sell like ebooks and courses. You could even link this to a private tuition service if you want to offer this.
Or you could simply blog for the enjoyment of it, and then sell affiliate products related to your topics. Or you could sell advertising space on your blog if your readership grows, and this is another way to make money from doing what you love.
Marketing Your Skills
Whether you decide to sell your work directly, or you teach others your creative skills, you will need to market your business.
A website is crucial, so make sure you launch your own. This is easier to do than ever before, and you can use it as your online portfolio. Make it beautiful, but also provide information about everything you do.
Also, set up a strong presence on social media. Be active, engage with your followers, make contacts, and answer questions. This can lead people to your business, and Pinterest is an especially good platform for artists.
You could also sign up with an online artists' community, and this can be a useful way to promote your work.
Make a Career Out of Your Passion
These are a few options for how you can make a career out of doing what you love. A creative career is possible, even though it may not be as straightforward as other career paths.
So think about what you would like to do most, whether that is selling your work, teaching, blogging, or all of them, then start coming up with your own plan to turn your hobby into a career.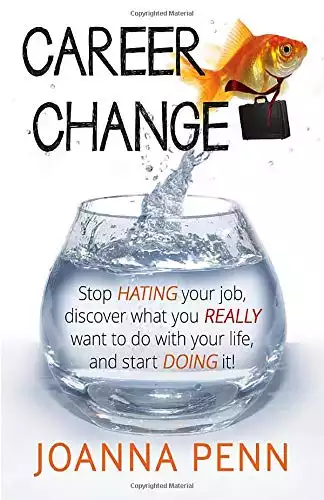 Career Change: Stop hating your job
This book will take you through understanding the way you feel now as well as how to improve your current situation immediately so you can create enough space to work on breaking out and doing what you truly love.
Buy on Amazon
We earn a commission if you click this link and make a purchase at no additional cost to you.
12/07/2023 07:35 am GMT