We may receive compensation when you click on links to products from our partners.
When you first start out in the working world, it can seem like you want to go in a certain direction with your life and career. For many people, after working in a certain field for a period of time, it becomes apparent that this is not the career for them. There is no reason to be scared about switching your career path. As long as you are certain that this is the right decision for you, it's something which you should go ahead with. In this article, we are going to give you some tips on how you can switch your career. Keep reading to find out more.
How to Successfully Change Your Career
Define your new career path by researching and networking with professionals in the industry.
Assess your skills, strengths, and weaknesses to determine which skills transfer over to your new career.
Create a plan that includes short-term and long-term goals, deadlines, and milestones.
Build a network of contacts in your new industry to gain insight and advice.
Consider getting additional education or training to fill in any skill gaps.
Update your resume and LinkedIn profile to highlight relevant skills and experience.
Prepare for interviews by researching the company and practicing answering common questions.
Be open to entry-level positions to gain experience and make valuable connections.
Take advantage of job placement services or career coaches for additional guidance and support.
Stay positive and motivated, and don't be discouraged by setbacks. With determination and effort, you can successfully switch your career.
Your Bank Account
Before you even begin switching careers, you need to make sure that you are financially stable enough to make this jump. If the field that you are switching to is highly competitive, you might find that you will struggle to get a high-paying job at first. Make sure to take a look at your checking accounts and understand your current finances. If you think that you can afford to let go of your current role then it might be time to start looking at switching careers. Otherwise, you might want to take some more time to save up before jumping into something.
Do Your Research
Just because you think that another career sounds nice, doesn't mean you'll like it any more than your current job. This is why you should sit down and do some thorough research on the type of roles that you might be taking on. Take a look at some jobs that are posted, the compensation, and the day-to-day responsibilities. Once you've done some research, you might find that you need to get a bit more experience in some aspects of your career before you can make the switch. Doing research will help quite a bit, so make sure to spend some time doing this.
Try It Out
After conducting thorough research, it may be time to prepare for a transition to a new career by applying for relevant jobs. Consider job shadowing, even within your current company, and seek advice from industry professionals. Night classes or other exploratory opportunities can also help you determine if the new career is the right fit before quitting your current job.
Ready for a career change, but don't know where to start? Our latest blog post has 10 easy tips for success! From networking to education to staying positive, we've got you covered. Start your journey to a new career today! #careerchange #success #jobsearch
Click To Tweet
Additional Resources
What Color Is Your Parachute? 2021
What Color Is Your Parachute? 2021: Your Guide to a Lifetime of Meaningful Work and Career Success – by Richard N. Bolles – With the unique and authoritative guidance of What Color Is Your Parachute?, job-hunters and career changers will have all the tools they need to discover—and land—their dream job.

Switch
Switch: How to Change Things When Change Is Hard – by Chip Heath and Dan Heath – This book provides insights into the psychology of change, and offers strategies for making successful transitions.

The Pathfinder
The Pathfinder: How to Choose or Change Your Career for a Lifetime of Satisfaction and Success – by Nicholas Lore – No matter where you are in your journey, if you want work to be more of a dance than a drag, The Pathfinder will expertly coach you through the process of designing a career you will love.

Career Change
Career Change: Stop hating your job – by Joanna Penn – The Smart Person's Guide to Quitting the Day JobLife's too short to continue feeling this way. It's time to change your life. Packed with strategies, tips and personal stories that will help you find the work you love.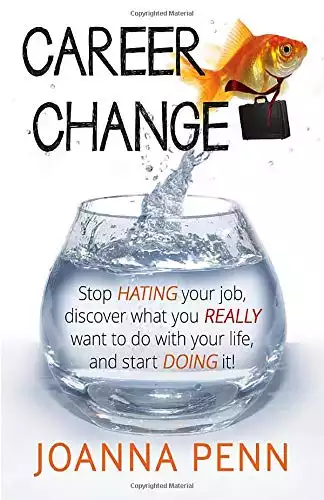 Career Change: Stop hating your job
This book will take you through understanding the way you feel now as well as how to improve your current situation immediately so you can create enough space to work on breaking out and doing what you truly love.
Buy on Amazon
We earn a commission if you click this link and make a purchase at no additional cost to you.
12/07/2023 07:35 am GMT

Final Verdict
Switching careers doesn't have to be as daunting as it seems. You need to make sure that you do the necessary research and preparation to make sure that you are making the right decision. Don't be afraid to make the jump if you know that it is right for you, you might find that you are a lot happier than you are in your current position.