We may receive compensation when you click on links to products from our partners.
The hardest part of getting your dream job isn't necessarily figuring out what you want to do; it's beating the competition. But you might be able to get further in your professional pursuits by both assessing your available options and taking the time necessary to transform yourself into the best possible candidate for any potential job opportunity that you pursue. In this article, we're going to discuss the steps you should take if you want to get the perfect career in a competitive landscape.
Choose a path based on who you are.
This is the most essential step towards attaining the perfect career. If you want to beat the fierce competition in a particular industry then you have to ensure that you're the best possible option for a particular job role. Obviously, this can be achieved through hard work over time. For instance, you might not be qualified to be a dentist today, but that doesn't mean you should give up on such a career path if you're willing to take the time necessary to study. But you'll definitely give yourself a stronger headstart if you choose a path based on who you are.
The hardest part of getting your dream job isn't necessarily figuring out what you want to do; it's beating the competition.
Tweet This
This is about looking at your experience, qualifications, and characteristics. What skills do you currently have? What kind of working environments would benefit your mindset? What goals do you have in life? Employers are looking for candidates that will be competent, comfortable, and motivated in a job role. If you want to get ahead in a competitive landscape then you should be looking for a career path that suits who you are on all of those levels. You can start making a list of industries and particular job roles that sound well-suited to you.
TopInterview
At TopInterview, each session is tailored to you and your unique goals. Your choice of comprehensive packages make it easy to get the help you need to nail your interviews. TopInterview offers three plans based on your needs
Ace your interview
We earn a commission if you click this link and make a purchase at no additional cost to you.

Once you've started to think about paths that might be well-suited to you, you need to narrow down your options. You might be juggling several ideas that sound great, but if you want the perfect career then you need to make sure you're actually pursuing the perfect career. In other words, you need to weigh up your options in terms of pros and cons. Perhaps you're caring, so you feel pulled towards careers in both healthcare and teaching.
However, you have to think about more than your personality traits. Perhaps you lack a strong stomach or you're not prepared to study for several years to be qualified for a healthcare career. Alternatively, perhaps you're not prepared for the demands of being a teacher. You need to think about your skills and personality traits. The goal is to find a job that satisfies enough criteria in both of those categories. The better the job fit, the more likely you are to beat the competition.
Start networking.
The next step is to start networking. Forget the idea that you'll always be at a disadvantage because there are so many potential candidates out there with connections in the industry. Yes, knowing people in the right places can be very beneficial, but the rest of it is down to you. If you're better than another potential candidate then it doesn't matter who they know. Moreover, it's never too late to form your own connections. You just need to know who to reach in order to have a shot at acquiring the position which interests you.

For starters, you should use LinkedIn helps to advertise you to potential employers who might be interested in someone with your abilities. You'll find that you get friend requests from people in all sorts of industries if you list your skillsets and experience clearly and accurately. Be a little proactive, of course. Search for the people who can get you connected in the industry. Don't be afraid to send messages to potential employers. The direct nature of such communication might make more of an impression on a company than yet another CV in a pile of resumes.
Study
You also need to study, as briefly mentioned earlier, if you want to stand out in a competitive landscape. Whether you're pursuing a career in healthcare that requires years of studying or a career in sales that might only require a few weeks of training, you should never dismiss the importance of qualifications in the working world. Even if you have the bare minimum qualifications necessary for a particular position at a company, that doesn't mean you're going to get the role. Another candidate might come along with one more qualification, and that might sway the employer towards picking them over you.
LinkedIn Learning
LinkedIn Learning provides over 10,000 business, technology, creative skills, and development courses.
Enhance Your Skills
We earn a commission if you click this link and make a purchase at no additional cost to you.

Study as much as possible. You might even want to return to education. You might ask yourself "is a masters degree worth it?" and the answer is "yes." It's always worth studying further to gain additional qualifications.
"Life is all about evolving and constant change. Whenever we're on the lookout for a new job, we have to find the appropriate reasons. Sometimes it's not so straightforward, we end up falling into a career that provides us with a salary, so we feel inclined to stay with it, for fear that there's nothing else out there. But when we get bored with this job, it's time to change our career, not just so we feel happier in what we do, but also, finding something that provides the appropriate perks. Changing your career is never an easy navigation, but what can you do to ensure that you navigate it successfully?" – Changing Your Career Successfully
Master the interviewing process.
This is something you need to do before stepping into an interview. Rather than wasting several opportunities by applying to a particular job. Give yourself some time to prepare.
Having an impressive cv is important, but every other candidate will most likely have the same qualifications and experience as you. That's the whole point of companies offering interviews. They're trying to narrow down the options by seeing what candidates are really like in person. You need to aim to do more than simply live up to expectations; you need to stand out.

Make sure you're confident. You don't want the employer to think your words have been rehearsed. Make sure you have an idea of the things you want to say, of course, but you need to be ready to go off-topic. After all, the interviewer will most likely challenge you by asking unexpected questions. They don't want to see you churn a pre-written speech. They want to see if you're capable of thinking on your feet. Make sure you research the company in question (its history and the requirements of your specific job role). Then, make sure you revise. That way, you'll be prepared for a variety of questions.
You should also prepare some questions that you want to ask the interviewer. This will impress them because it'll show that you're truly interested in the business.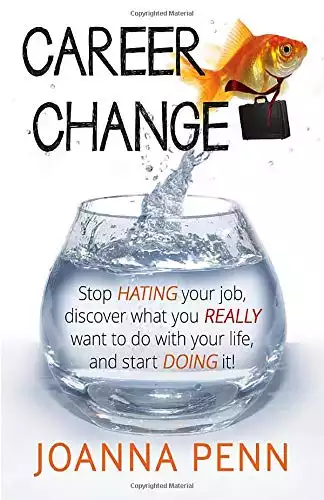 Career Change: Stop hating your job
This book will take you through understanding the way you feel now as well as how to improve your current situation immediately so you can create enough space to work on breaking out and doing what you truly love.
Buy on Amazon
We earn a commission if you click this link and make a purchase at no additional cost to you.
12/04/2022 12:20 am GMT